Click To View Video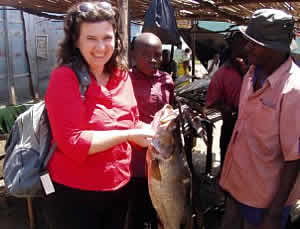 The Foreign Ministry told The Jerusalem Post this week, that a team of Israeli and German experts will be working with Kenyan agricultural and water professionals to upgrade the commercial fishery system and waste water treatment mechanisms within the central African country's Lake Victoria.
Ilan Fluss, director of policy planning and external relations at MASHAV, which is the Foreign Ministry's Agency for International Development Cooperation, said the team made a preliminary visit to Lake Victoria early this month, to assess the needs of the region and strategize ways to better raise tilapia fish (also known as St. Peter's fish) and implement a more effective wastewater treatment system in the lake.
Deputy Foreign Minister Danny Ayalon and German Economic Cooperation and Development Minister Dirk Niebel signed an agreement of consent for the project in January -- as part of a pact the countries had made two years earlier to work together on projects in developing countries.
Facilitated from the Israeli side by MASHAV, the Kenyan project is important to reducing poverty conditions in the Lake Victoria area, Representatives from Germany's GIZ aid agency participated as well as well as Kenyan fisherman and industry professionals.
The German-Israeli team already has a collaboration under way in Ethiopia, and signed an agreement last year to begin one in Ghana.